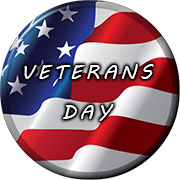 If you have a veteran in your family that is unable to attend the dessert 

on Monday

 because they live too far away or they have passed away, please send Ms. Roby a 
picture of them along with their name, branch of military they served in, and years of service.  Leadership would like to include these veterans in the program despite 
them not being able to be there in person.  These pictures are due back to Ms. Roby  by 
Wednesday, November 4th.
On Monday, November 9th, LRMS students and staff will be honoring Veterans with a dessert and presentation from 1:50 - 2:50.  Students can honor a family member or friend who is a Veteran by filling out the
RSVP Card
.  If students would like to participate but do not know a Veteran, they can
Adopt a Veteran
.  Both forms are due to Ms. Roby by October 27th.  Help us thank our Veterans for their service.